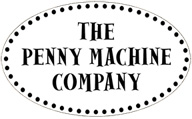 The Penny Machine Company
"Dependability, Quality and Swift Service"
Greetings from The Penny Machine Company!
The Penny Machine Company is an exciting, innovative, and environmentally responsible business with an ongoing commitment to creating custom designs that perfectly fit each customers' brand identity. We build our cabinets from bamboo, and other sustainable and recycled building materials. Consistent machine functionality coupled with superior product quality has proven to yield increased income for clients and total customer satisfaction.
When we started out in the 1980s, we had just a single truck, a few penny-machines and a small route on the Central Coast of California. Today, we have hundreds of machines placed worldwide, and our manufacturing facility remains on the beautiful central coast of California.
Building, installing and servicing coin-operated penny-machines is our specialty. Our innovative designers and hard-working builders create one-of-a-kind penny press machines, ID tag engravers, medallion machines and other exciting custom equipment. And of course, we always work at a competitive price.
Each PMC creation perfectly fits the identity of its location – from major tourist attraction to a small gift shop – using eye-catching machine branding and innovative custom cabinetry to match the destination. With more than 30 years of daily "in the field" coin-operated machine experience, we thoroughly understand each step of the installation, maintenance and collection processes. The PMC business model relies on consistent machine functionality and around the clock customer service. Our superior product-quality has proven to yield increased income for clients with total customer satisfaction.
We look forward to sharing the PMC vision and teaming up with you next! We are confident our vending strategies and custom coin-operated machines will be effective in maximizing your company's vending revenue.
To learn more about PMC visit www.pennybiz.com or contact us directly by calling (877) 448-6511 or emailing info@pennybiz.com